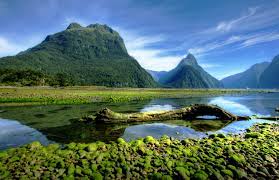 I am right now sitting on a bench outside the University… I am going to stay here for a while so that everything that surrounds me feels comfortable during the time I am waiting for my friend to come . No more noise, no more theoretical lessons, just the nature and me, and a cosy bird's song. All around me is green, there are a lot of trees, grass and some tiny flowers starting to grow. At the far back I can see some people moving fast to arrive at their classes on time, at least that is what I guess; but the most important thing, they are quite far so any noise reaches my peaceful atmosphere.
Today is a cloudy day so heat does not disturb me, what is more, this tight breeze makes me forget even what time I am on.
A window wide-opened makes me came again to reality, a smartphone ringtone and some voices of enthusiasm were the origin. Even though I realize the next class was about to start I last there for 5 more minutes until my friend came.
I am sure that if this activity would have been asked to me two days before, I would have chosen another outside place, but this bench transmitted me something I don't know how to describe, and I decided to become it as one of my favorite places all around the campus. Discovering new paces it such an extraordinary feeling for me, so as a future architect I want to be able to create those atmospheres on people one day.
*To be exact, the location of this place is near the faculty of "Magisterio" of the UV, and its kind of a big park which I cross every that I go to university*
Questions about my outside space
-WHY DID YOU CHOOSE THIS PLACE?
I chose it just because I was ambling through there and I saw the bench surrounded by nothing, I mean a relaxing space to wait for my friend, at least for some minutes. It somehow attracts me by the way I pass and I am now so glad I sat there.
---
-WHAT DO YOU THINK MAKES YOU BE AT EASE?
Sometimes everyone needs to be alone for many time, just to connect with their own or even to focus more on some work. Peacefully sites make me relax so I feel I am in vacation which means I have no thoughts on work; so I use these spaces to disconnect from the world for a short period of time. I mean, places without noise and chilling atmospheres make me be at ease
---
-IS THERE ANY DISRUPTIVE ELEMENT?
Those voices heard behind the window may disturb me a little but not to much. It is true that this place is usually crowded so that when it is lonely is lovely to rest at it. It can be annoying when you are relaxed that someone bothers you. But in this case I decided not to do anything as it was obvious that in any moment noise had to appear as I was just in the middle of two faculties.
---
-DO YOU THINK YOU'D FEEL THE SAME WAY IN ANOTHER SPACE RIGHT NOW?
Possibly the answer would be yes, as my favorite outside places look like the same. It just needs to be cosy, with lot of nature surrounding it, and to be alone or just with few company which shares the same pleasures.
---
-DO YOU FEEL THAT THE PARTICULAR CONDITIONS OF THIS SPACE MAY INFLUENCE ITS OCCUPANTS? ,HOW?
There's a thing to say here, as I've chosen a place normally crowded by university students I guess just a few part of these students have ever tried to sat on those benches to relax which in some way it is normal, but I hope they one day try it so that maybe if there's not that much people they can discover one of the most beautiful places at the outside part of the University. So what I've said means that this place has like two ways of influencing people; the first way of influencing is when you pass near to it, so that if you have things to do, you don't stop there and even less if there's lot of students everywhere walking fast. The second way of influencing comes when you broke the first influence which more than an influence by the place comes from the people around you. This second one is the one that makes you relax, so tell me Wouldn't you be confortable at a place with no noise and surrounded by nature?
---
-WOULD YOU CHANGE ANYTHING?
I won't change anything as I think places are special the way there are, the unique think I would hope is this place would be closer to my home, so that I can arrive sooner. Even though that I've gone there few times more from that day.
"Atmosphere"
-Now we move to Peter Zumthor's book which I read like an hour ago: "ATMOSPHERE"
Zumthor tries all along the book to highlight the sensorial idea of the architecture; he focuses on the moving aspect of buildings. His book is called atmopheres and is not a surprise that the main topic treated is the atmosphere you feel and the atmosphere generated by the building, which is in fact a direct responsibility oof the architect. He talks about the exchange of feelings between people and objects around the construction; so that everything has something to say us.
Other topics presented by the author are for example the correct materials to chose taking in account light and shadows, also the temperature and for sure, the relationship between the different materials used; that means we can resume this by saying that every material should be coherent with the rest of the building and with the environment as well as the landscape plays an important roll when transmitting to people. As everything ought to be threaten with carefulness, spaces are also important when referring to architecture. Zumthor makes a good reflexion here where deals with the topic of privateness; human scale should be applied quite strictly so that every scale bad mesured will directly affect to the whole composition.
This part I'm going to talk about now, caught my attention by the way he explains it. He says that the tension between inside and outside makes us feel one or different way. And it's the word tension which makes me realize that a building is like a shelter but also like a kind of layer which teleports you to one or other dimensions which are inside or outside in this case. This kind of layer is thought to be the emphasize of attractiveness so that needs to be catchy, and that is mainly affected by the materials used in construction.
The last part I want to highlight of the text is the sound, which needs to be taken in account as the acoustics of the building will determine the atmosphere of it. So as you can see, all this topics are eventually related with the buildings atmosphere. That makes us realize the importance of making sure everything generates a good place to stay at.
It is such a great book which puts attention on the details that conform the atmosphere; so it is recommendable if you are just about to start a project as it opens your eyes and your brain starts to improve every feature.
And to finalize the topic of environment…
I'm going to to talk about an atmosphere I remember from a trip. This atmosphere I'm going to describe took place in Carcassonne, a village near the border between France and Spain. We went there for vacations (my family and I) and visited lot of things and places but the one I remembered the most was a castle at the top of a mountain bordered by some old big walls. We entered there though a gate with enormous dimensions; and why do I say that? The atmosphere inside the castle was quite different, there was like clear signs of high humidity on those large and corroded barriers.
There were also mildew on some kind of ropes which were tightened firmly to hold that gate as it opens and closes. Those were significant signs of a medieval atmosphere, at least for me. I could rememberer how you feel colder while you walk through those narrow paths. The was a lot of echo as well, so every word pronounced felt like was ending super slowly. The guide makes it even more realistic as he creates a spectacular atmosphere with his gruffly voice which reminds me to an ancient wise. It was really amazing as he started to tell us a story in which knights and battles were the main protagonists. The light then turn into a massive shadow when we cross the inner section of the castle were there was just a pair of candles hanging from the roof and glowing a little bit the main salon. So the history took place in one of the darkest parts of the castle were sometimes appeared a breeze that frozen everyone. Eventually we exit from there when the history finishes, like fifty minutes after our entrance.
Definitely now I give more value to that atmosphere which in one day I didn't focus on at all. It seemed like a film that day but now becomes more realistic as I understand the reason of why the atmosphere look like that there.